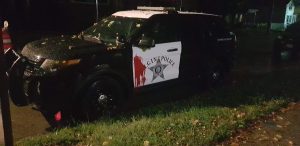 After the city replaced our previous artwork, we decided to paint bomb the police union billboard supporting Lt. Chris Jensen again. This time it was immediately taken down and replaced with an unrelated billboard the next day.
We also included paint bombing a parked police cruiser.
This fun night is not only dedicated to the memory of DeCynthia Clements, but also to Eric King and all other rebels world wide.
Down with industrial society! Fire to all prisons! The left is dead, long live black anarchy!
– individualist delinquents